Uki Festival 2022 – SOLD OUT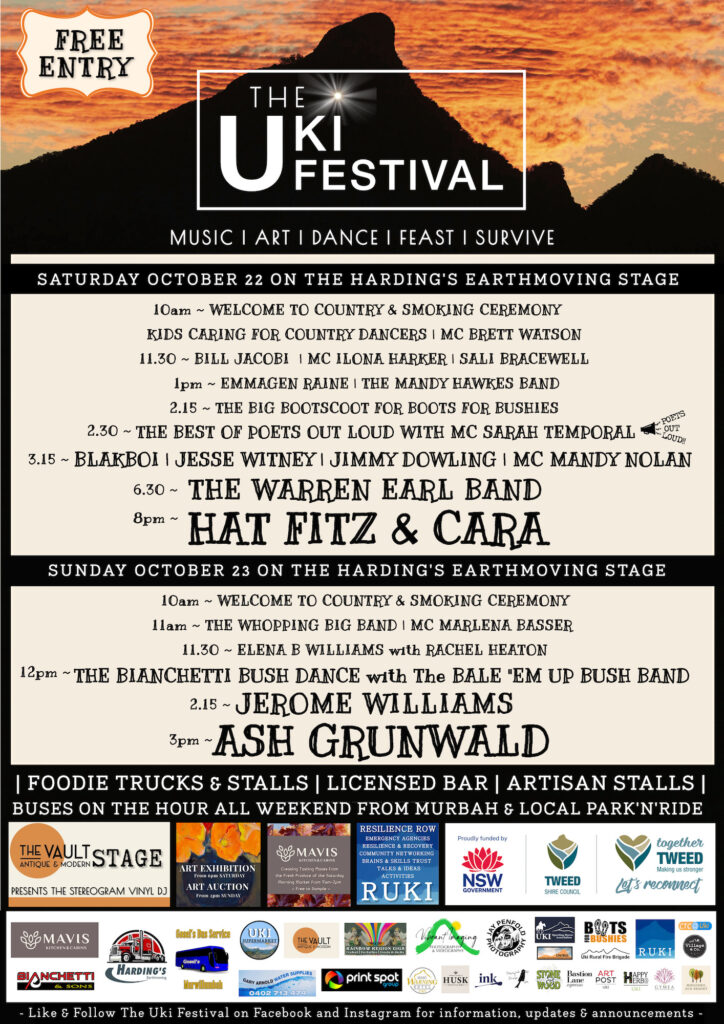 The Uki Festival 2022 says Thank You.
October 22nd and 23rd 2022.
FREE ENTRY
You are invited to visit Uki, one of the prettiest little villages in the Tweed Valley, with special thanks to the "Mud Army", the extended community of volunteers who flocked to the Northern Rivers as first responders to assist the flood impacted community.
To celebrate the recovery from the big floods of early 2022, the Uki community is hosting The Uki Festival, over the weekend of October 22nd and 23rd 2022, a FREE world-class Music, Art, Dance, Food and Resilience Festival.
The festivities will commence both days at 10am with a Welcome to Country followed by a traditional Smoking Ceremony.
The entertainment includes gospel-blues stars Hat Fitz and Cara on the Saturday, and Blues-roots legend Ash Grunwald on the Sunday, with performances from The Best of Poets Out Loud, Bill Jacobi, youngest ever contestant on The Voice, Australia, Emmagen Rain, Jesse Witney, The Mandy Hawkes Band, The Warren Earle Band, Jerome Williams, BLAKBOI, The Whopping Big Band, Elena B Williams and many more.
Dance performances include The Kids Caring for Country indigenous dance troupe, a sponsored Bootscoot for Boots for Bushies and a community bush dance with the Bale 'Em Up Bush Band featuring the infamous Rabbit – which will be proudly led by the students of Uki Primary School. Get your dancing shoes, (or boots) on!
An art exhibition will be displayed in the hall, culminating in an art auction.
Resilience agencies such as the RFS, SES, Red Cross and Resilient Uki will be in attendance, as well as talks, and yarn-ups in the dedicated Elders' space.
Major partner Mavis's Kitchen will be at the Saturday morning produce markets in the Uki Hall, sampling the local goodies and transforming local produce into culinary magic, with tasting plates available and free to festival goers. Fine foodie trucks will be offering delicious locally sourced delights, as well as a licensed bar stocked with the best of the local industries' offerings.

Artisan market stalls will offer hand-made original and bespoke goods.
Return Gosels buses will run from Murwillumbah every hour all weekend, as well as an hourly local shuttle bus for locals and visitors, who are being encouraged to leave the car at home.
The Uki Festival is Not-For-Profit, and is run by volunteers. Entry is FREE.
Proudly funded by the NSW Government and delivered in partnership with Tweed Shire Council – Let's Reconnect
Program, transport and other details can be found at the Facebook page : facebook.com/TheUkiFest